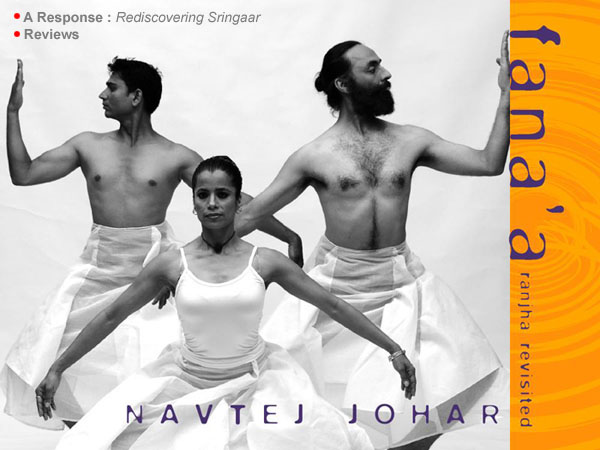 | | |
| --- | --- |
| Fana'a: Ranjha Revisited, an Abhyas Ensemble production, is a collaboration between Navtej Singh Johar and Sufi singer and composer Madan Gopal Singh. A dance-theater piece, it seamlessly fuses two archetypical narratives from North and South India: the predominant Sufi love legend from the Punjab, Heer Ranjha interspersed with Kutrala Kuravanji, a genre of dance-drama from Tamil Nadu in which a gypsy foretells the heroine, Vasantvalli, of her destined union with lord Siva. Operatic in nature, Fana'a freely intermixes and juxtaposes the two texts without a fixed flow of narrative, fixed characters or characterizations. Hence, Ranjha becomes Siva, becomes Vasantvalli, becomes Heer, becomes the gypsy, the sakhi, the mendicant, and so on; each identity willingly immersing itself in the other, surrendering its skin to discover another, constantly reinventing and recreating themselves. | |
Drawing on plural vocabularies—Bharatanatyam, yoga, Chhau, modern dance and physical theater, the choreographic treatment remains very contemporary.

The work—physical/sensual/spiritual—centers on Ranjha: a harbinger of continuity, who is continuously changing through his response to the land, the sound and the sensuous core of life. Fascinated by his own impermanence, Ranjha thus becomes the bard of a million masquerades, crossing cultural, spiritual, and existential spaces with ease, acquiring both impermanence and omnipresence.

Madan Gopal Singh is India's leading Sufi lyricist, composer, singer and scholar. A treasure-house of Sufi poetry, he is best known for his rendition of Punjabi Sufi texts and love legends and has translated a wide range of Sufi lyrics into Punjabi, Hindustani and English. He has toured extensively and has had the distinction of singing with the well-known Kurdish singer Shahram Nazeri; and has performed with Theo Bleckmann, percussionist David Cossin and double-bass player Gregg August amongst others. He teaches English literature, writes extensively on cinema and lectures on issues pertaining to cultural theory.