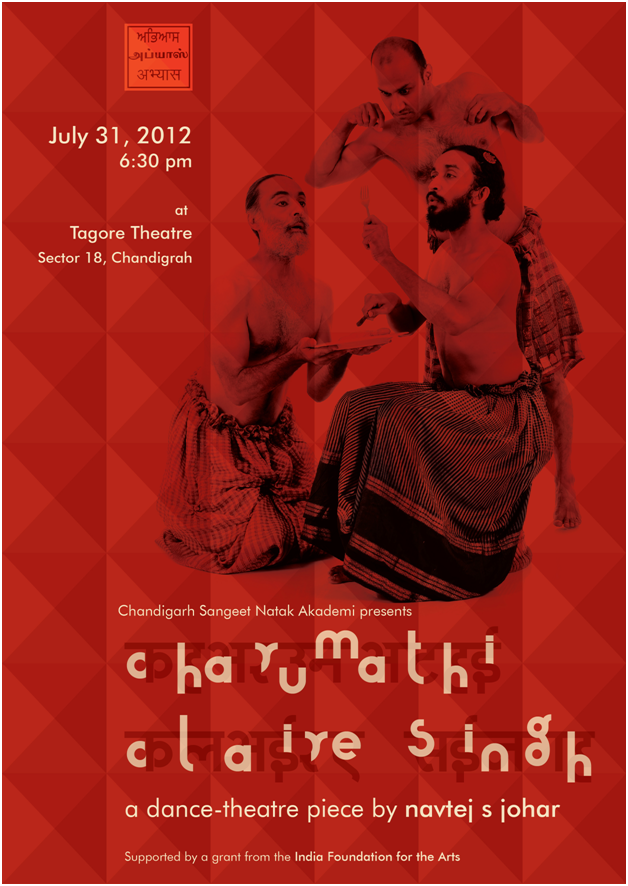 Charumathi Claire Singh
A Dance-Theatre Piece by Navtej Singh Johar
Support for making Charumathi Claire Singh came from the India Foundation for the Arts.
Charumathi Claire Singh is a dance-theatre piece that weaves two narratives, one inspired by The Maids, a play bu Jean Genet in which two maids engage in a daily ritual of impersonating their madam while at the same time are plotting to kill her, and the other based on a generic life-narrative of the devadasis, or 'maids of the gods' who were dedicated to serve in the temples and remained the main repositories of dance and music for over centuries in South India.
The work freely inter-mixes contexts, characters and texts; it ignores the binaries of the sacred/profane, mundane/sublime, violent/beautiful, casual/extraordinary in its search for a space for transformation. The maids seek release and transformation through death; the devadasis transport themselves to another world through sublime music. These transformations are the prerogative of the marginalized few who are endowed with inherent capacities of self-forgetfulness. Charumathi Claire Singh assiduously locates itself in the margins and challenges the possibility of self-forgetfulness, a prerequisite for transformation, within the self-conscious, mainstream, middle-class context. It also examines the choices male dancers make while taking up classical dance today.

Credits:

Concept and Choreography: Navtej Singh Johar

Performers: Navtej Singh Johar, Lokesh Bharadwaj, Sudeep Kumar

Carnatic Vocals: Sudha Raghuraman

Music: Kshetragya, Tanjore Quartet, Arvo Part, Andrea De Luca & Lorenzo Bruscl

Lighting: Shreekant

Backstage: Pragya Tewari

Photos: Anshuman Sen

Support for making Charumathi Claire Singh came from the India Foundation for the Arts.