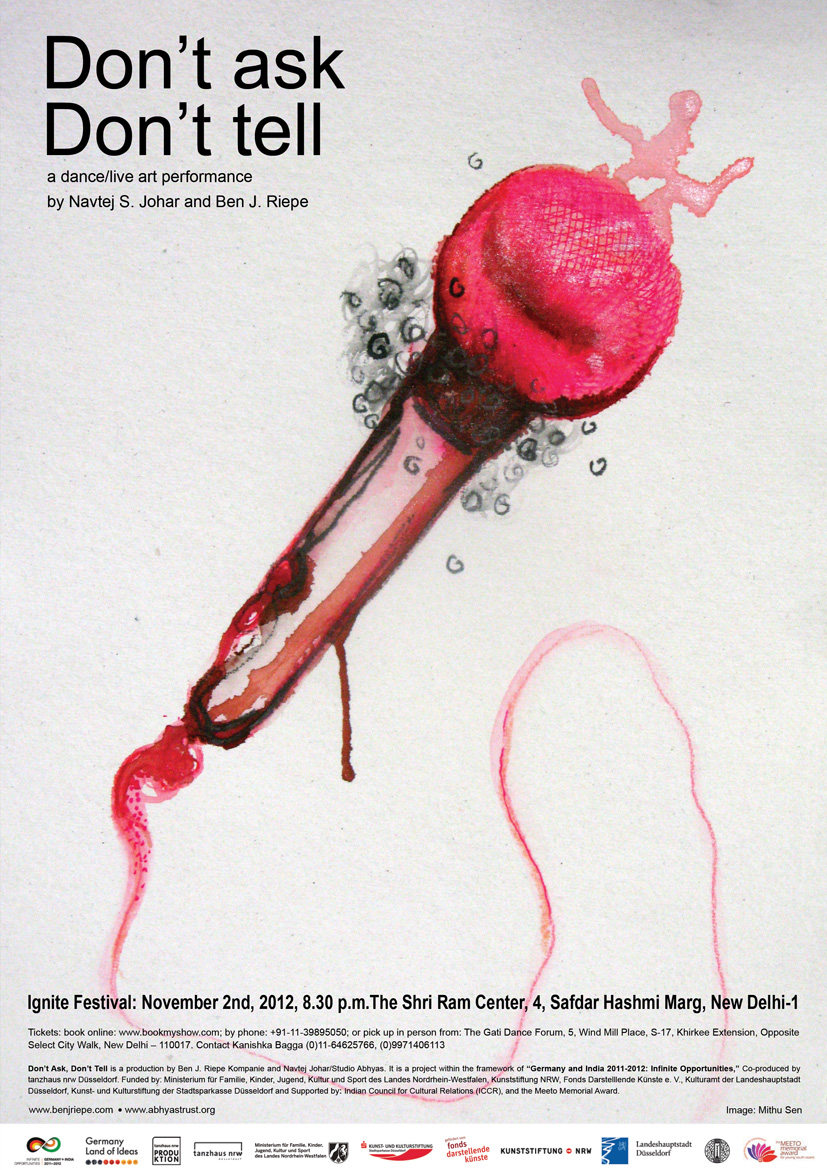 Don't Ask, Don't
Tell Co-choreographed by Ben J Riepe and Navtej Johar
Ben J. Riepe is a German choreographer who works at the edge of performance/art and Navtej Johar is a Bharatanatyam dancer/choreographer who is researching and looking for new ways of expression in performance. They met in 2009 at New Delhi at a choreographers conference co-organized by the Goethe Institute, New Delhi and the World Dance Alliance (India), and discovered that they were both working on similar issues pertaining to performance. Both love and hate dance. Ben feels that dance offers the biggest freedom of all art forms, the combination of the human body and the fact that it is live offers infinite possibilities of expression. Navtej feels that dance has overplayed and exhausted itself through its eagerness to show, display, explain instead of its potential of being 'real' and 'present,' This collaborative project with dancers and musicians both from India and Germany is not about difference or inter-cultural exchange. It is interested in pushing boundaries within a live situation and looking for new forms of representation; searching for real ways of making the body present and available for an exchange be it erotic, humorous, beautiful, ugly, hard or ordinary. Both choreographers rely on the premise that everybody brings in their respective cultural and artistic background, and push the research of this work from that point onwards.
The work premiered in India at the Ignite Festival at New Delhi on the 2nd of November, 2012 and was performed at the NCPA, Mumbai on the 6th of November and at Chennai, on the 8th of November, under the aegis of the ICCR.
The dates of the European tour are:
20th April, 2013 (European Premier)
Theaterhaus Stuttgart in the frame of Stuttgarter Theaterpreises
www.theaterhaus.de
28th and 30th of April, 2013
tanzhaus NRW, Düsseldorf in the frame of tanznrw13
www.tanz-nrw-13.de
2nd May, 2013
Halle Kalk, Köln in the frame of tanznrw13
www.tanz-nrw-13.de
Credits:
Choreography/Concept: Navtej S. Johar, Ben J. Riepe
With: João Bento, Anish Bhatt, Simon Hartmann, Sudeep Kumar, Daniel Ernesto Müller Torres, Rekha Raj
Music: João Bento
Light Design/Technical Direction: Dimitar Evtimov
Costumes: Ben J. Riepe, Arun Tewari
Creative Consultant: Mithu Sen
Production management: Sabina Stücker
Management India: Sunil Mehra
Administration: Heike Lehmke
Management: Maximilian Linsenmeier, Martin Baasch