Grey is Also a Colour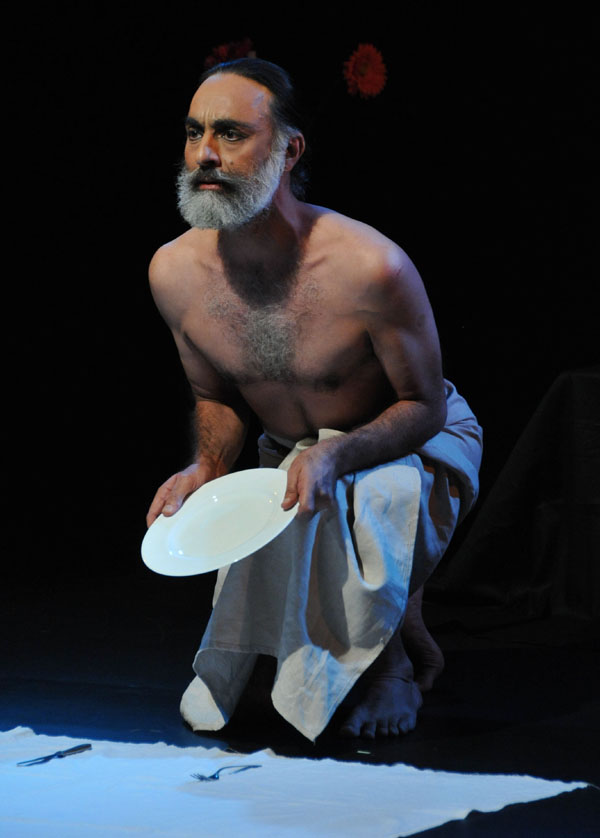 Grey is Also a Colour is a dance-theater piece devised and performed by Navtej Johar. Inspired by Doris Lessing's novel The Grass is Singing, it is a story of human entanglements across class and colour boundaries. The piece illustrates the theatrics of staunch social stances that are used to silently undermine, intimidate, control and steadfastly maintain class inequalities. However, the complex narrative takes a sinister twist as a seemingly abusive interaction between a mistress and a servant begins to surreptitiously push social norms and collapse class boundaries in search of human comfort.
Choreographer's Note: Grey is Also a Colour was commissioned by the Sangeet Natak Akademy to commemorate the Commonwealth Games, at New Delhi, in 2010. Inspired by Doris Lessing's novel, The Grass is Singing, it is a dance-theatre solo that pivots on the issue of class-inequality between a white mistress and a black servant in South Africa during apartheid. The story takes a sinister turn as the abusive mistress-servant equation takes on an erotic twist. As a classical dancer I have been used to basing my work on classical Indian poetry, mythology or legend, which is essentially lyrical and abides by the conventional high-art norms of "beauty." However, in this work I have welcomed the challenge of basing my work on the ordinariness of every-day life in a strife-ridden, unjust, class and race bound society. I have particularly enjoyed the exercise of extending both the methodology and aesthetic of classical abhinaya (the classical mimetic art) into physical theatre, somewhere investing it with a reverse-lyricism and at other times distorting it or rendering it pedestrian. Pushing classical norms to the margins, the attempt has been to viscerally forge through the text, jostling with it to unfold the unspoken subtexts, explore the dialectic of social oppression/transgression and enter the neurosis of having to live, believe in and uphold class inequalities.
Credits:
Performed and Choreographed by Navtej Singh Johar
Narration: Sunil Mehra
Music: Brinda, Frank Pahl & Kronos Quartet
Music Mixing: Deepak Samson
Lights: Nitin Jain
Backstage: Pragya Tiwari