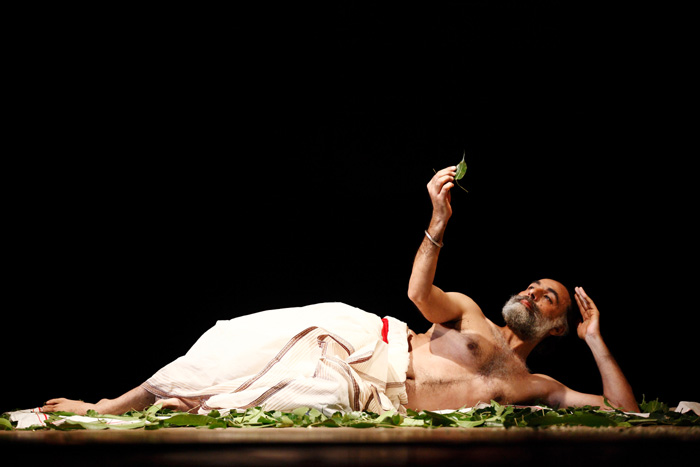 Photos by Aharon Rothschild
Choreographer's Note:

I must admit that to me Rabindra Nath Tagore was one looming cultural figure with a flowing beard who had started Shantiniketan, who was the first Indian to win the Nobel prize and his poetry was sung by my Bengali friends in syrupy sweet voices. It was in fact the attitude of sweetness surrounding his work that made it opaque and uninteresting for me. But the process of making this piece has been an eye opener and I feel utterly grateful for it. Today, I am in total awe and admiration of the man for his sheer humanity, his love and respect of Nature, his unflinching faith in "life" even in the face of recurring tragedy, his liberating views on education, art, spirituality, his child-centered focus on life, his radical views on women and his touching love for Bengal and Bengali. I feel that he wished to bring the world to Bengal; whatever he appreciated anywhere in the world he wished to bring it back to his people almost with a child-like eagerness. But most of all I am stunned by his incredibly liberating views on nationalism. I truly salute the man to be relentlessly Real and Human; he was absolutely no romantic as he had earlier seemed to me from the outside!

Undoubtedly Real is a homage to his repeated journeys to the same vantage point where he would strike an interface with the Real. His forms are always touchingly simple and human, free from the burden of perfection, convention and respectability. This work brings into play chance meetings between many of Tagore's expressions: a collage of his writings, musings, letters, paintings, songs, plays as well as his letters and political commentaries.
Navtej Johar